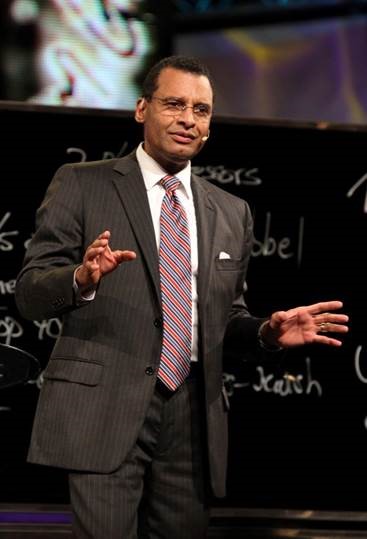 January 1, 2017
  Reverend A.R. Bernard Sr.
"Many people want to be in positions of power so that they can be served. But God puts you in a position of power so you can serve others." – Reverend A.R. Bernard Sr., Founder, Senior Pastor and CEO, Christian Cultural Center, Brooklyn, New York
"If we want to raise employment or reduce unemployment we have to give more support to entrepreneurship, innovation and small businesses." – Timothy Antoine, Governor, Eastern Caribbean Central Bank (St. Lucia Times)
"I am thrilled that I am able to be a role model. I am thrilled that I am able to be the first female African American General Manager for Four Seasons and who happens to be a West Indian; who happens to be from the (U.S.) Virgin Islands; and if it makes someone else who used to sit in my shoes back when I was a little girl in the Virgin Islands say 'I can be that', then that's great because it is absolutely true, you can be that too." – Yvette Thomas-Henry, General Manager, Four Seasons Atlanta
"Peter Burwash International (PBI) has, for many years, been synonymous with highly polished, enthusiastic professionals and expert tennis management for luxury resorts. We are always looking for new ways to elevate the overall guest experience and we know PBI can do that for our tennis operation. We are delighted to partner with them to offer our guests their award-winning service." – Elizabeth Armstrong, General Manager, The Buccaneer, St. Croix, U.S. Virgin Islands 
"We are proud to have achieved this milestone (500 successful orthopedic surgeries) in such a short period and look forward to embracing new technologies which have completely changed the way surgeries are performed."  – Dr. Alwin Almeida, Chief Orthopedic Surgeon and Joint Replacement Specialist, Health City Cayman Islands
"The trouble in America is not that we are making too many mistakes, but that we are making too few." – Phil Knight, co-founder, Nike 
"God's mercy can convert the mistakes of your past into wisdom for your future." – Bishop Dale C. Bronner, Word of Faith Family Worship Cathedral, Austell, Georgia
"Quotable Caribbean" is compiled by Marketplace Excellence Corporation, a full-service, integrated marketing agency committed to excellence in the fields of public relations, marketing and media coaching.