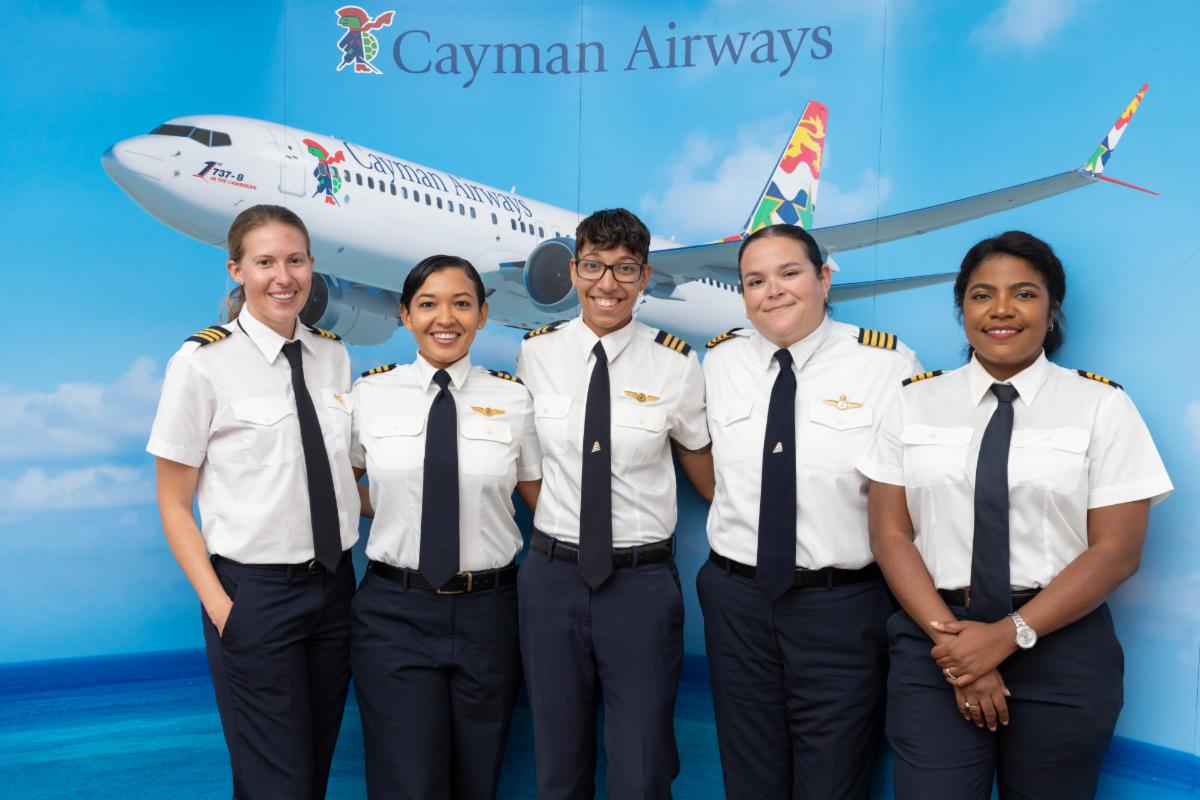 Cayman Airways: Leading by example
Welcome to the MPE Caribbean Tourism Authority, a new resource for all things related to marketing, branding and promoting the unique Caribbean experience. To share stories, information or intelligence, contact us at info@marketplaceexcellence.com.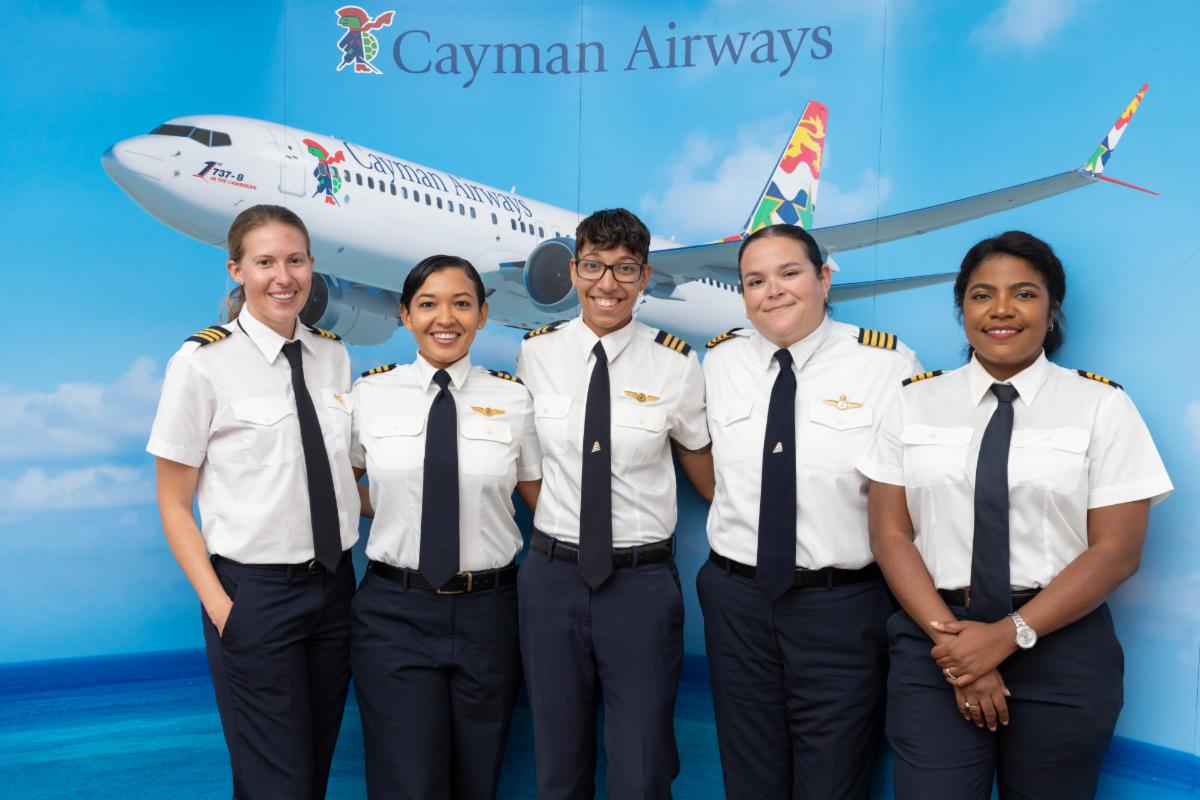 The female pilot contingent at Cayman Airways (from left): First Officer Jessica Ebanks (Twin Otter fleet); First Officer Leanni Tibbetts (Twin Otter fleet); First Officer Amber Hydes (Saab 340B+ fleet); Captain Crystal Godet (Saab 340B+ fleet); and First Officer Giselah Ebanks (B737-8 jet fleet).
Photo credit: David Goddard
The aviation industry has long been dominated by men, but the tide is slowly turning as more women are breaking into the field.
On the eve of International Women's Day earlier this month, Cayman Airways recognized five female pilots, who now make up 12 percent of the airline's pilot complement, one of whom (First Officer Leanni Tibbetts) is the reigning Miss World Cayman Islands 2022. 
About five years ago, Crystal Godet created history by becoming the first female captain on the Cayman Airways Express fleet. Captain Godet, who hails from Cayman Brac, is pilot-in-command on the Saab 340B+ fleet.
The progressive hiring practice not only highlights the importance of diversity in the industry but also showcases the airline's commitment to providing equal opportunities for women in critical roles. "At Cayman Airways, we're always excited to celebrate the incredible achievements of the many women who make our operations possible every day. We're committed to creating a workplace that's inclusive and diverse, and we're proud to do our part in empowering all women to reach for the stars in the aviation industry," a company statement reads.
As a national carrier, Cayman Airways acts as a strategic economic lever or accelerator for the Cayman Islands and for close to 55 years has made a significant positive impact across the local travel and tourism landscape. 
The airline has been instrumental in connecting the Cayman Islands with key tourism markets north of its borders, and its pioneering efforts have been recognized by industry experts. Having a national airline is not only important for developing new routes but also for attracting U.S. legacy carriers, for example, to follow suit.
A prime example of a national airline that made a huge difference was Air Jamaica, which under the leadership of the late Gordon "Butch" Stewart revolutionized air travel in the Caribbean from the 1990s into the new millennium. 
Since 1968, Cayman Airways has been serving the Cayman Islands as the country's National Airline. With a jet fleet of four brand new state-of-the-art Boeing 737-8 aircraft, the airline offers more nonstop international jet flights to and from the Cayman Islands than any other airline.
Cayman Airways offers regular nonstop service between Grand Cayman and: Kingston, Jamaica; Havana, Cuba; La Ceiba, Honduras; Miami and Tampa; New York; and Los Angeles. Seasonal nonstop flights are also operated to and from Montego Bay, and Denver.
The airline recently announced bold moves to strengthen aerial links between Grand Cayman and Panama, and will resume flying to the Central America country in June.
Cayman Airways Express operates multiple daily flights between Grand Cayman and the Sister Islands of Cayman Brac and Little Cayman.